Meet the Creators
Get to know the creative minds behind your favorite Denver cocktail bar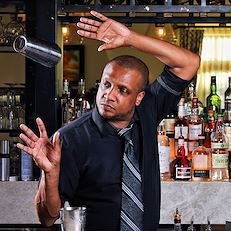 Ravin Buzzell
General Manager
Ravin Buzzell
General Manager
Ravin Buzzell has been in the food and beverage industry for over 23 years. Originally based in Orlando, FL, Buzzell always felt at home behind the bar. After years of of focusing on managing venues, he embarked on the consulting side of the industry opening top restaurants and bars at various Marriott International hotels across the United States and surrounding islands.
From 2016 to 2018 Buzzell worked side by side reputable chefs in Irvine and Fullerton, CA where he launched new restaurant concepts and developed innovative beverage programs at hot spots like Irvine Marriott's, YNK (You Never Know) and Marriott Irvine Spectrum's, Hive & Honey Rooftop Bar. During this time, he focused on developing unique flavors and cocktail styles, and truly pushed the limits of cocktail programs in hospitality, bringing him to the realization that "anything is possible."
In 2019 Buzzell landed at CdM Restaurant in Corona del Mar and was voted 2019 OC Weekly People's Choice Best Bartender and 2019 OC Golden Foodie Bartender of the Year. Still consulting from time to time, he also focuses on sharing his passion for beverage through teaching virtual classes, educational videos and sharing his knowledge with anyone who is eager to learn.